Eurekaweek Management 2024
When the Eurekaweek 2023 comes to an end, it is also time to search for next year's Eurekaweek Management. A Eurekaweek Management year is the most exciting experience and offers you a great challenge. Do you have the perseverance, flexibility and creativity to make the best week of the year a big success?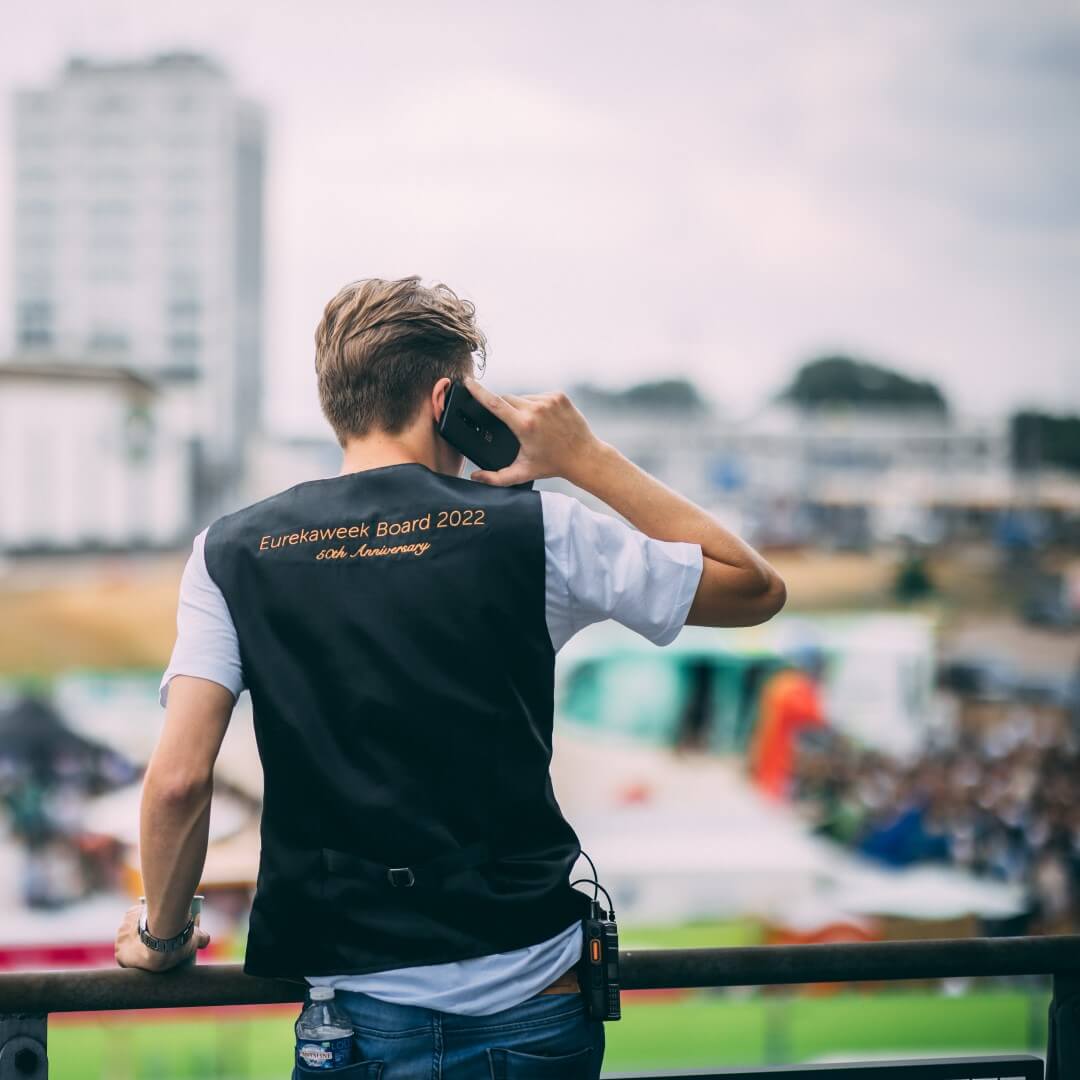 Being a Management Member
Your Tasks
As a Management member, you are responsible with a team of 8 other students of organizing the introduction week of the Erasmus University Rotterdam. This means you are not only responsible for your own position, but also for a number of events and objectives within the week. On top of that, you get to collaborate with a variety of stakeholders and participate in social events. Organising the Eurekaweek requires a strong Management working closely together, so there are also social activities to bond with each other during the year. This combination makes for a very rewarding and exciting year with a variety of responsibilities, allowing you to get the most out of yourself.
Being a Management Member
Time Period
Before your official start in December, your predecessors will provide you with a report to go through as preparation. In December you will be working part-time to get familiar with the Eurekaweek and your position. Starting in January, you will be working full-time (40 hours a week) physically on campus on the Eurekaweek, working towards the events in August. During the summer (July-August), you will be busy and a continuous employability is expected of you.
After that, each position still has to wrap up their tasks for most of the positions this will be until October, however for the Chairperson this is until November, and for the Treasurer until December. As a Management member you are an employee of the Erasmus University and therefore you will be financially compensated with a compensation of 1500 euro gross/month. Most of all, a Eurekaweek Management year requires a lot of intrinsic motivation.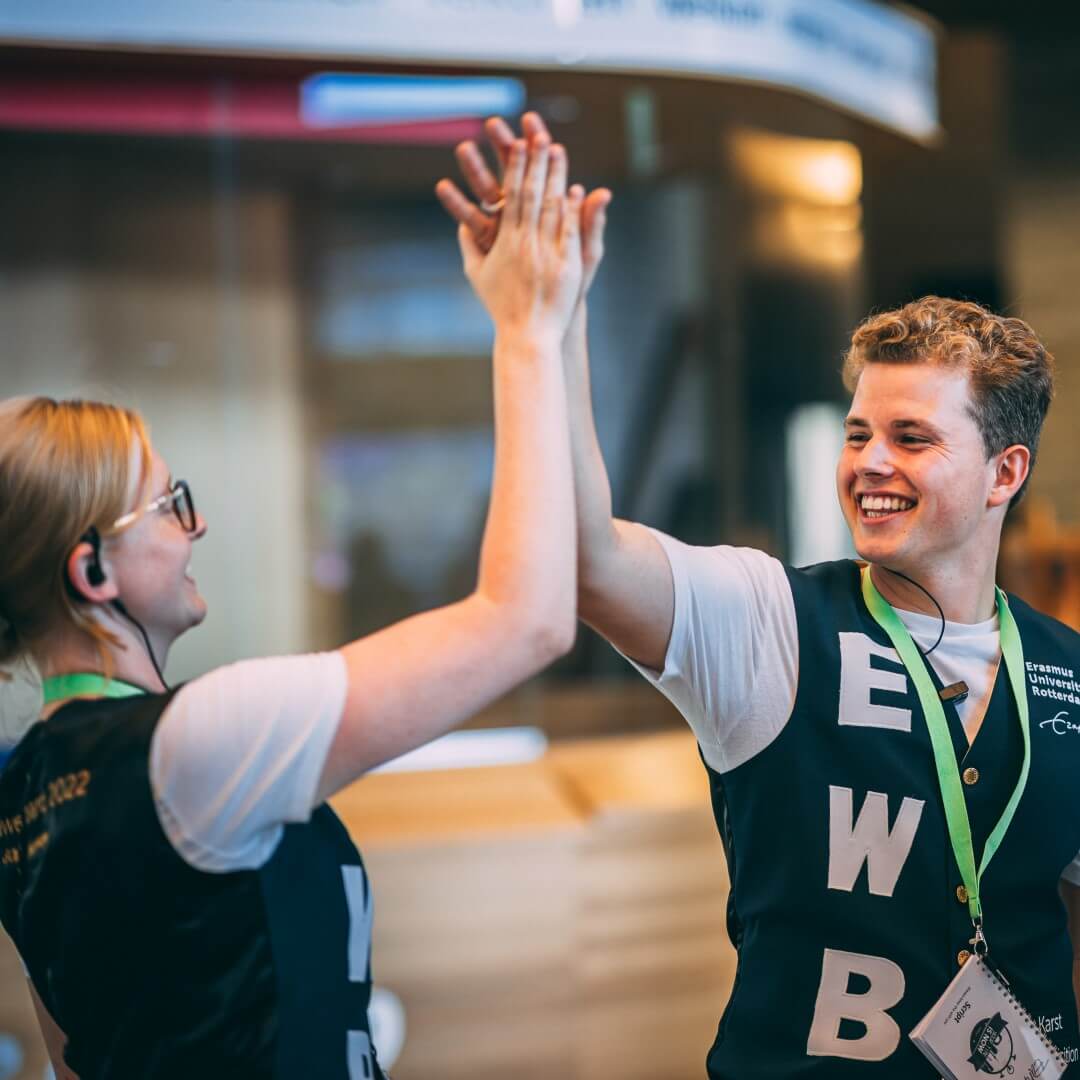 The Positions
For all positions a level of C1 in English is required. Additionally, for the positions Chairperson and Events & Logistics a level of C1 in Dutch is required due to the nature of the tasks these positions have to perform.
Chairperson
December 2023 – November 2024
As chairperson, you are responsible for managing the Eurekaweek Management. You ensure that everyone performs their tasks properly and you keep an eye on the entire process. You also maintain important contacts with various departments within the university, the associations, and the municipality. In addition, as chairperson you have an overview of the entire programme, the budget, and the evaluation. For the position of chairperson, it is important that you have experience with organizing, can plan well and think in a solution-oriented way. In addition, you must be able to keep a good overview and be able to motivate and support the Management members.
Treasurer
December 2023 – December 2024
The treasurer is responsible for the budget, monitors income and expenditure, sends invoices and is responsible for the financial settlement of the Eurekaweek. In the beginning, the treasurer allocates the budget and keeps a close eye on what the various Management members want to spend on programme components, sustainability, and gadgets. If the treasurer has the finances up-to-date, the Management knows what is possible.
Internal Affairs
December 2023 – October 2024
The Commissioner of Internal Affairs is in contact with all associations connected to the Erasmus University Rotterdam. This includes the faculties, study, student social, sports and multicultural associations. These associations play a major role during the week, so you will look at their role during the Eurekaweek events together with them. You will also be involved in the faculty's programme during the Eurekaweek and you will ensure that the university is aware of all developments. You play a major supporting role in many program components since several parties you work with will be present during the week.
Acquisition (2x)
December 2023 – October 2024
Commissioners of Acquisition are concerned with obtaining sponsorship money and services in return. You put together the sponsorship brochure and sponsorship packages, you approach existing contacts, and you look for new sponsors. You get in touch with both profit and non-profit companies and learn to approach them in different ways. For acquisition you are commercially oriented, and you have to be creative in finding sponsors and making deals. It is not just about bringing in money, but also about bringing in products or services that benefit the Eurekaweek.
Participants & Guides
December 2023 – October 2024
The Commissioner of Participants & Guides is responsible for everything concerning the (potential) Eurekaweek participants and their guides. You ensure that the participants receive all the necessary information. For example, you compose multiple mailings and send them to all students who register at Erasmus University. You are also responsible for the recruitment and training of the guides. Finally, you put together the participant groups and assign them to the guides. During the entire Eurekaweek, you are the person who answers questions from participants and guides at the Service Points.
Marketing
December 2023 – October 2024
The Commissioner of Marketing is responsible for the branding of the Eurekaweek. You come up with the theme and logo of the Eurekaweek that you will later use for all the clothing during the week. Besides that, online and offline promotion are very important. It is an advantage to have knowledge of design programs or to be graphically skilled, but it is not necessary. For the promotion of the week, you keep track of the different communication channels, both prior to and during the week. You are responsible for the various social media channels and the website, so affinity with social media is really a must for this position! You will also assemble and supervise the Media Committee, that creates content before and during the Eurekaweek.
Events & Logistics
December 2023 – October 2024
As Commissioner of Events & Logistics you are jointly responsible for all events during the week, giving you a good overview of the entire program. As Events & Logistics you are primarily responsible for all logistics at the events, such as power supply, fences, stage design and equipment and rental items. You will be closely involved in every event for drawing floor plans and hiring the right logistics suppliers. For Events & Logistics you have to be practical, creative and you are able to keep a good overview.
Events & Crew
December 2023 – October 2024
As Commissioner of Events & Crew you are jointly responsible for all events, so you have to keep an overview of the entire program. The Commissioner of Events & Crew is responsible for the creative part, such as artists and show planning. In addition to organizing all events, you also take care of the crew. You will be busy with the recruitment and selection of crew members, organizing activities and crew preparations and managing the crew during the week. For this it is important that you have a good overview of what needs to be done before, during and after an event. It is also important for Events & Crew that you are creative, organised and able to motivate others.
The Application Process
The Application process works as follows. You need to submit 3 Management positions of your preference, ranked from your number 1 till number 3. In order to create a complete Management, we will need to know your top 3 of choice. It is therefore important to think about which positions fit your interests and which do not. You will need to send a motivation letter that contains a motivation for each of these 3 positions (either in Dutch or English). The letter should be no longer than 1 sheet of A4 in total.
Besides your motivation, you also need to send your resume. Your interview will be with Veerle Petersen (Chairwoman of the Eurekaweek Management 2023), Joop Matthijsse (Supervisor of the Eurekaweek) and Katarina Putnik (Senior HR Policy Advisor Inclusion, Diversity, Equity & Access). The interviews will take place in September.
Please send your CV + motivation letter (either in Dutch or in English) to jobapplication.es@eur.nl with the subject 'Application Eurekaweek Management 2024'.
Erasmus University Rotterdam (EUR)
Erasmus University Rotterdam (EUR) is an internationally oriented university with a strong social orientation in its education and research, as expressed in our mission 'Creating positive societal impact'. EUR is home to 3.700 academics and professionals and almost 33.000 students from more than 140 countries. Everything we do, we do under the credo The Erasmian Way – Making Minds Matter. We're global citizens, connecting, entrepreneurial, open-minded, and socially involved. These Erasmian Values function as our internal compass and create EUR's distinctive and recognizable profile. From these values, with a broad perspective and with an eye for diversity, different backgrounds and opinions, our employees work closely together to solve societal challenges from the dynamic and cosmopolitan city of Rotterdam. Thanks to the high quality and positive societal impact of our research and education, EUR can compete with the top European universities. www.eur.nl.
Want more information about the Management position?
Are you still in doubt, but would you like to get more information? Keep an eye on our website and our social media channels for more information on the Management Interest events and the application process for the Eurekaweek Management 2024. You can also contact us individually for a cup of coffee if you want to learn more about a specific position.